Enter To Win Our Mother's Day House Cleaning Giveaway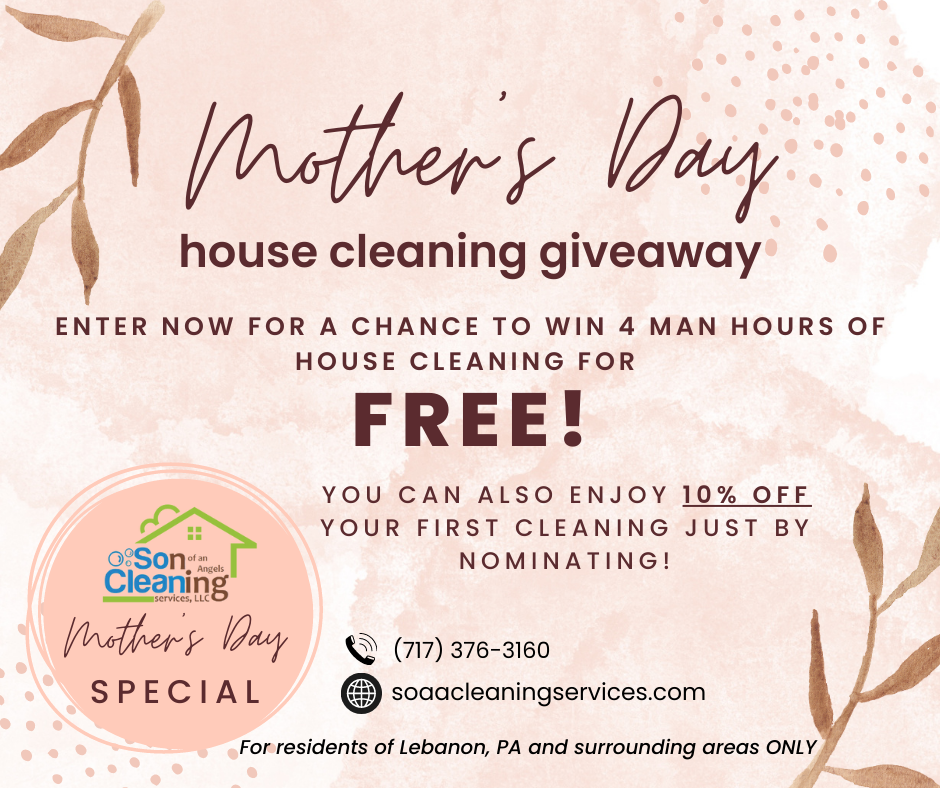 House Cleaning Giveaway
Do you know a mother who deserves a FREE House Cleaning?
We know that being a mom is a full-time job, and keeping your house clean can be a never-ending task. That's why we want to give back to all the hardworking moms out there by offering a free house cleaning giveaway!
To enter the giveaway, we invite you to nominate a deserving mom in your life who could use a break from cleaning. It could be your own mom, a friend, a sister, or any mother who inspires you with her dedication and hard work.
Our team of professional cleaners will take care of all the cleaning tasks that you don't have time for, from dusting and vacuuming to deep cleaning your kitchen and bathrooms. We'll leave your home sparkling clean and smelling fresh, so you can focus on the things that matter most – spending time with your family and enjoying a well-deserved break. All you have to do is fill out a simple form on our website and tell us why your nominee deserves a free house cleaning. We'll be selecting one (1) winner at random and announce them on our Facebook page on 12th of May. As a nominator, you can also get a chance to enjoy 10% discount when you book your initial deep cleaning with us!
To enter, simply follow these steps:
CLICK HERE to like our Facebook page.
Tag a friend in this post.
Leave a comment on the post with the name of your nominee and explain why your nominee deserves a FREE cleaning.
Subscribe to our email list below.
Terms and Conditions:
The FREE cleaning will include 4 man-hours of house cleaning. (2 cleaners for 2 hours)
This time can be used in bathrooms, kitchens, or any other living space in your home. (Carpet cleaning NOT included)
The winner will be announced on May 12th, 2023 and will be notified via email and phone call.
To qualify for this free house cleaning offer, you must be at least 21 years old and live within 10 miles of the 17042 ZIP code
By entering the contest, you are giving us permission to publish your name and award details on this website and the Son Of An Angels Cleaning Services Facebook page.
This offer is limited to new customers ONLY. Last day to enter is on May 11th, 2023.